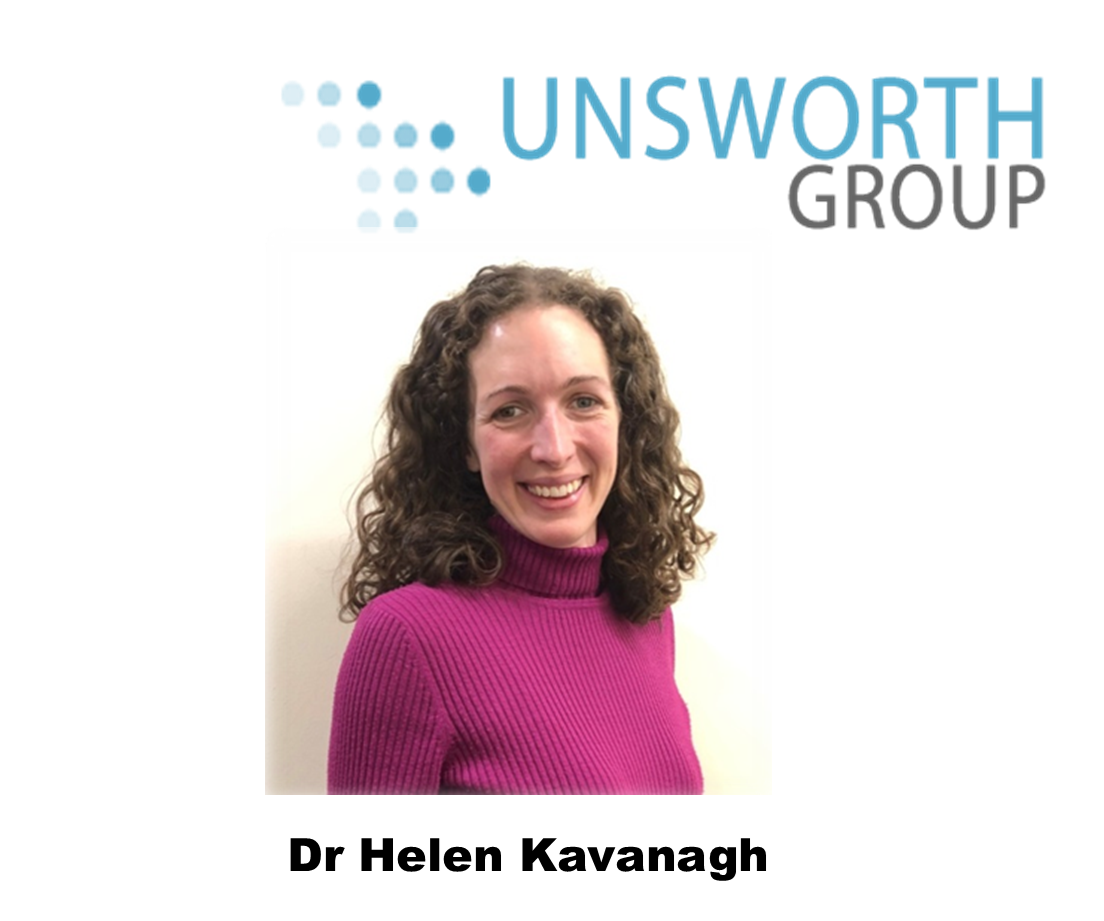 6th May
Dr Helen Kavanagh
It is with great sadness that we would like to inform our patients that Dr Helen Kavanagh, one of our GP Partners, is retiring from the practice due to ill health. Dr Kavanagh has worked at the Unsworth Group Practice since 2017 and is held in high regard by her patients and colleagues. We are extremely grateful for all her hard work and dedication over the past 5 years, she will be sorely missed and we wish her well as she spends time with her family.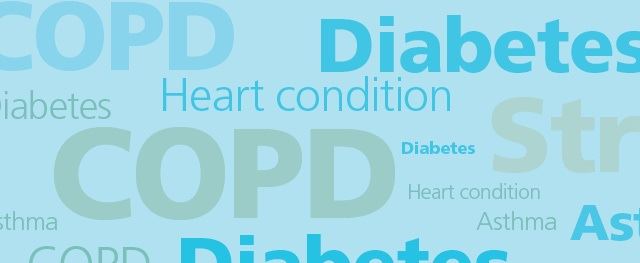 21st Apr
Long Term Conditions Reviews
The way we invite our patients for their Long Term Conditions Review is changing, you will no longer be invited in your birthday month. The majority of patients will be invited by our text messaging service which will include your appointment date and time. If this is not convenient for you please reply to the message with the days/times you are available. For our patients who can't receive text messages we will send your invite and appointment information by letter
We will be inviting our most vulnerable patients first and will ensure everyone is seen and reviewed timely and safely. We are also minimising the number of appointments and times you have to attend the surgery, please be patient while we trial this new system. We have worked really hard to make it easier for you to attend your Long Term Conditions Review, there may be some teething issues but we are monitoring the process very closely to ensure it runs smoothly. Constructive feedback is always welcome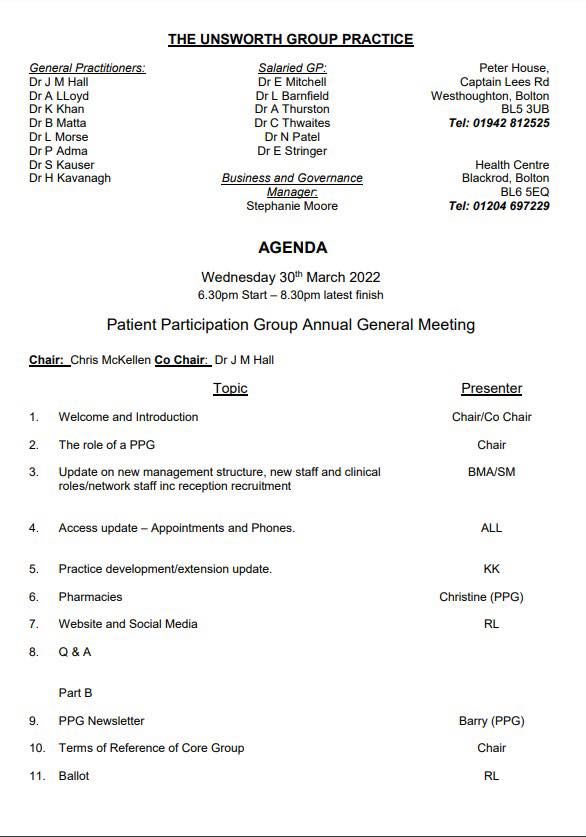 24th Mar
PPG Annual Meeting - Agenda
Please see the agenda for the upcoming PPG Annual Meeting.
Due to unforseen circumstanctes the venue has now changed to the Hall of Fame suite at Bolton Whites Hotel.
We look forward to seeing you there!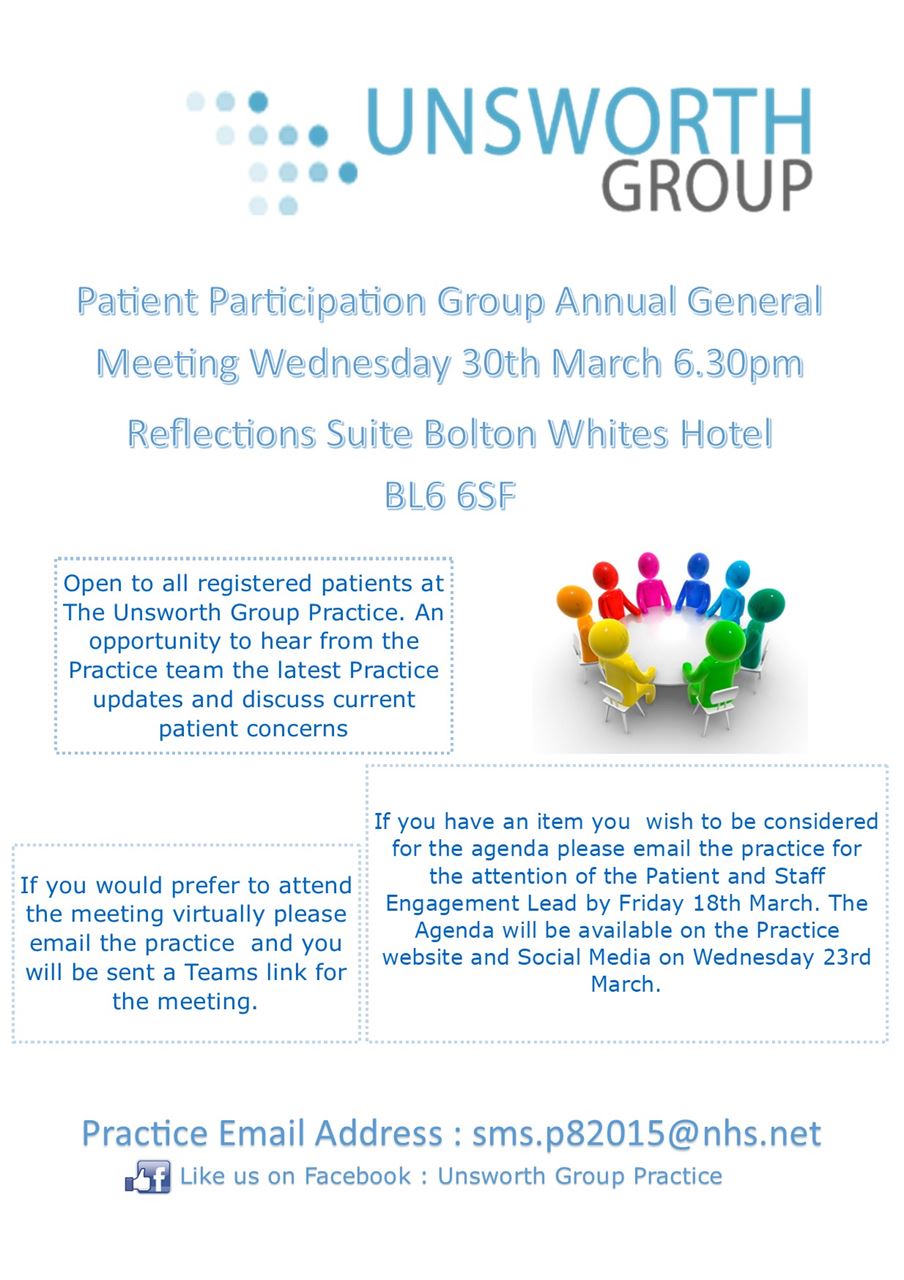 7th Mar
PPG Annual General Meeting March 2022
The next PPG Annual General Meeting is being held on Wednesday 30th March 6.30-8.30pm in the Reflections Suite at Bolton Whites Hotel. All registered Unsworth Group Practice patients are welcome to attend, this is a brilliant opportunity to hear the latest news and updates from the practice team alongside discussing any current patient concerns.
If you have a topic you would like to be considered for the Agenda please email the practice for the attention of the Patient and Staff Engagement Lead no later than Friday 18th March. The Agenda will be published on the practice website and social media on Wednesday 23rd March.
If you would prefer to attend the meeting virtually please email the practice and we will send you a Teams link for the meeting.
We look forward to welcoming our patients, minutes of the meeting will be published for those who were unable to attend the meeting.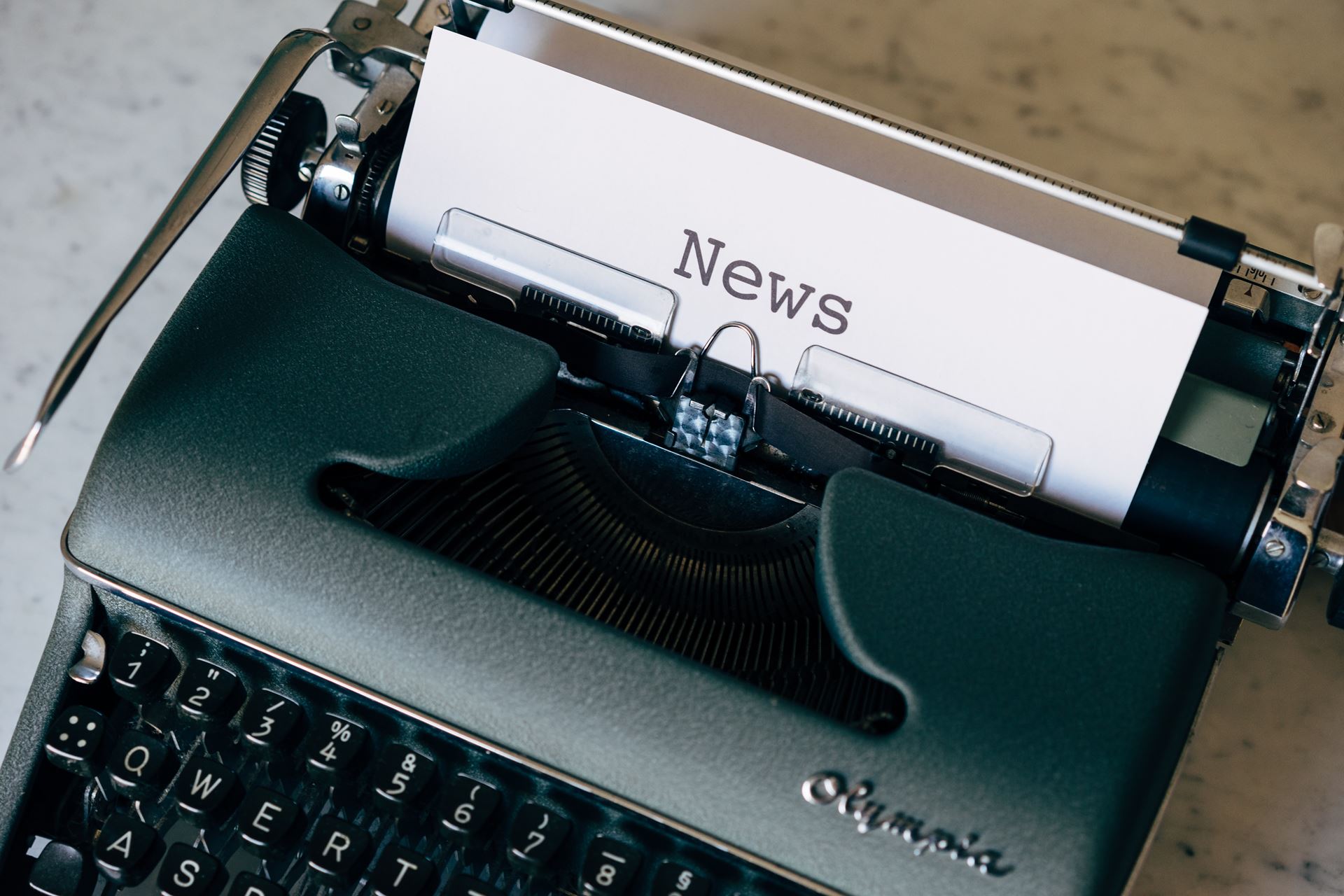 14th Dec 2021
PPG Newsletter #3 - Christmas and New Year

8th Dec 2021
Be clear on COVID vaccinations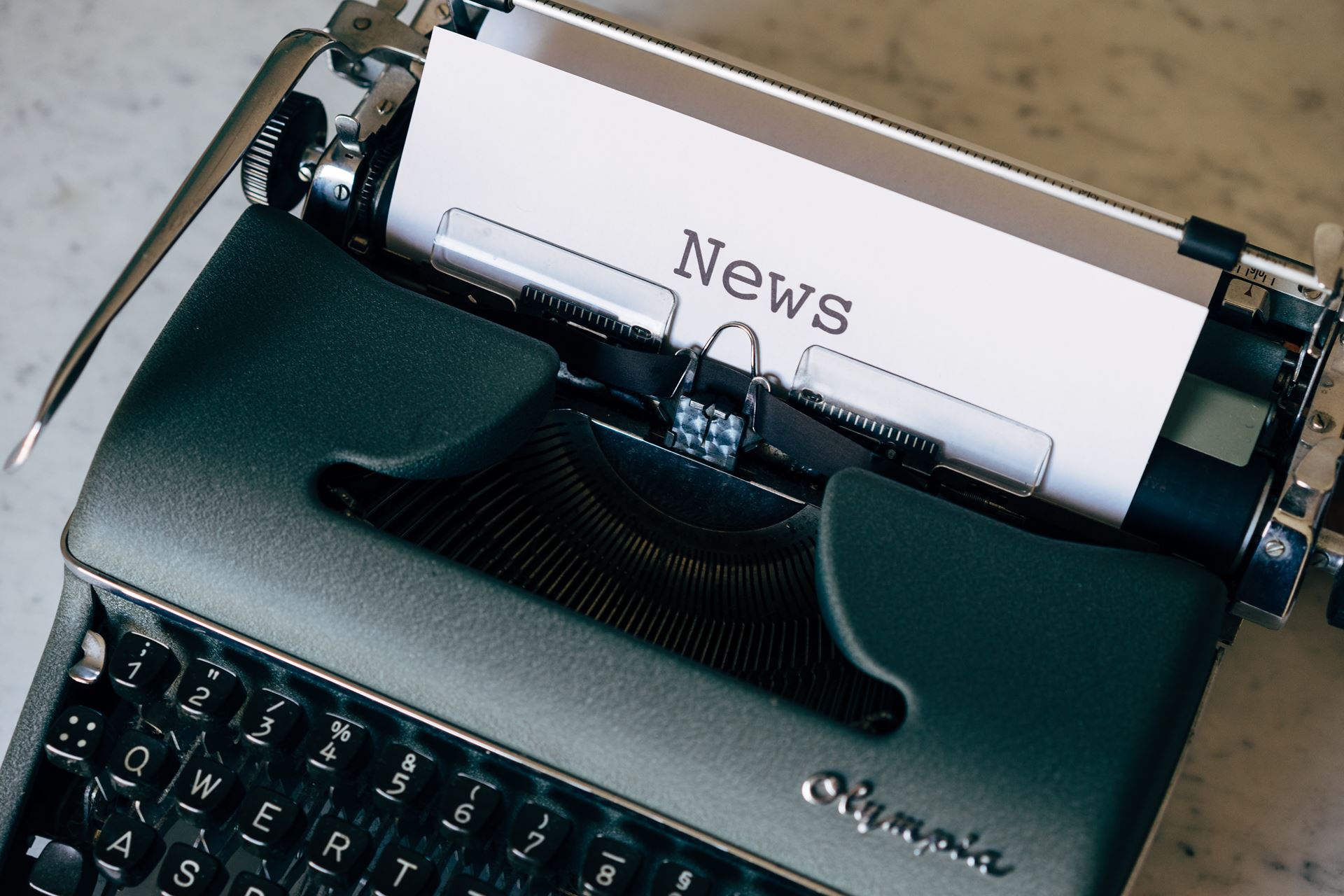 28th Oct 2021
PPG Newsletter #2
PPG Newsletter No2 (1).pdf Hope you enjoyed our first Unsworth Group Newsletter! Please take a few minutes of your time to read our 2nd PPG Newsletter. Enjoy!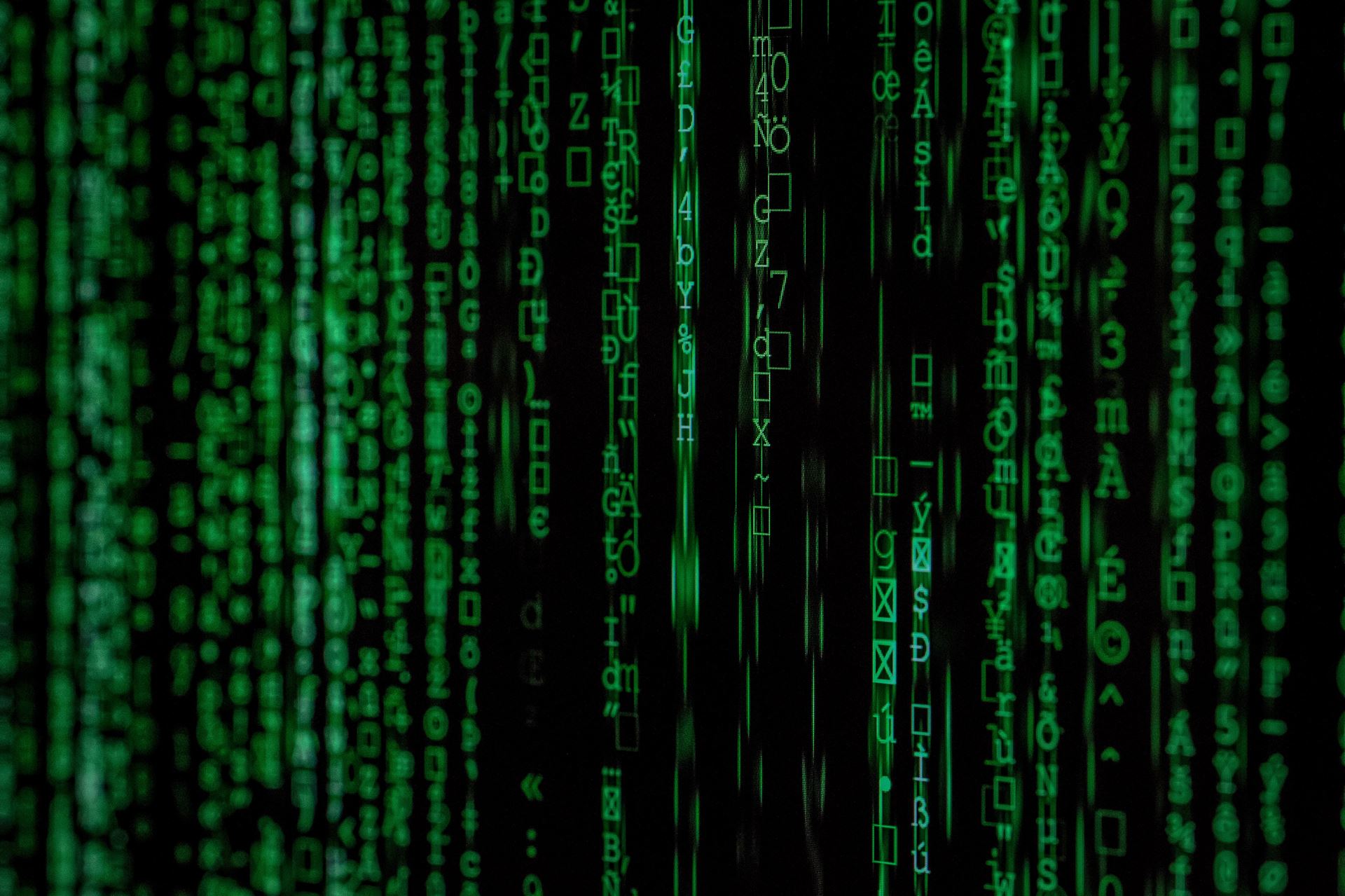 3rd Aug 2021
NHS DATA EXTRACT OPT OUT (updated March 2022)
NHS DATA EXTRACT OPT OUT (updated March 2022)
The current NHS Digital (NHSD) extract of GP data for Research purposes (known as the GPDPR) has been delayed due to NHSD wishing to review the way in which this data will be collected, to conduct more public involvement and information about the plans and change the way in which patients can opt out of the extract of their GP data.
Currently the only way to opt out is to complete a Type 1 opt out form and return this to the practice by the 31st March 2022. However, this extract will not be taken until the NHSD have changed the way it will take the data and respect the patient's choice for using their data. NHSD are introducing the following changes to the opt out process which will mean that patients will be able to change their opt-out status at any time::-
Patients do not need to register a Type 1 opt-out by 1st September to ensure their GP data will not be uploaded.
NHS Digital will create the technical means to allow GP data that has previously been uploaded to the system via the GPDPR collection to be deleted when someone registers a Type 1 opt-out.
The plan to retire Type 1 opt-outs will be deferred for at least 12 months while we get the new arrangements up and running and will not be implemented without consultation with the RCGP, the BMA and the National Data Guardian.

This means that you can opt out at any time in the future and NHSD will delete data that they already have taken for research purposes, the deadline has now been set at 31/03/2022.
You can register your choice by using the following link https://www.nhs.uk/your-nhs-data-matters/manage-your-choice/ or by contacting the practice on 01942 812525.
3rd Aug 2021
MORI - GP Patient Survey 2021 results
The results of the recent MORI poll, GP Patient Survey for 2021, have been released and we are really pleased with the results. Thank you to all our patients who responded and for the positive feedback you gave. Below is an overview of some of the results and a link to the full survey feedback.
Where patient experience is best
These are the three results for this practice that are the highest compared to the Bolton and National average.
88% of respondents say they have had enough support from local services or organisations in the last 12 months to help manage their long-term condition(s)
Local (CCG) average: 72%National average: 74%
94% of respondents felt the healthcare professional recognised or understood any mental health needs during their last general practice appointment
Local (CCG) average: 84%National average: 86%
75% of respondents were offered a choice of appointment when they last tried to make a general practice appointment
Local (CCG) average: 69%National average: 69%
Where patient experience could improve
These are the results for this practice that are the lowest compared to the Bolton and National average
69% of respondents find it easy to get through to this GP practice by phone
Local (CCG) average: 70%National average: 68%
If you would like to read the full Survey results please use this link: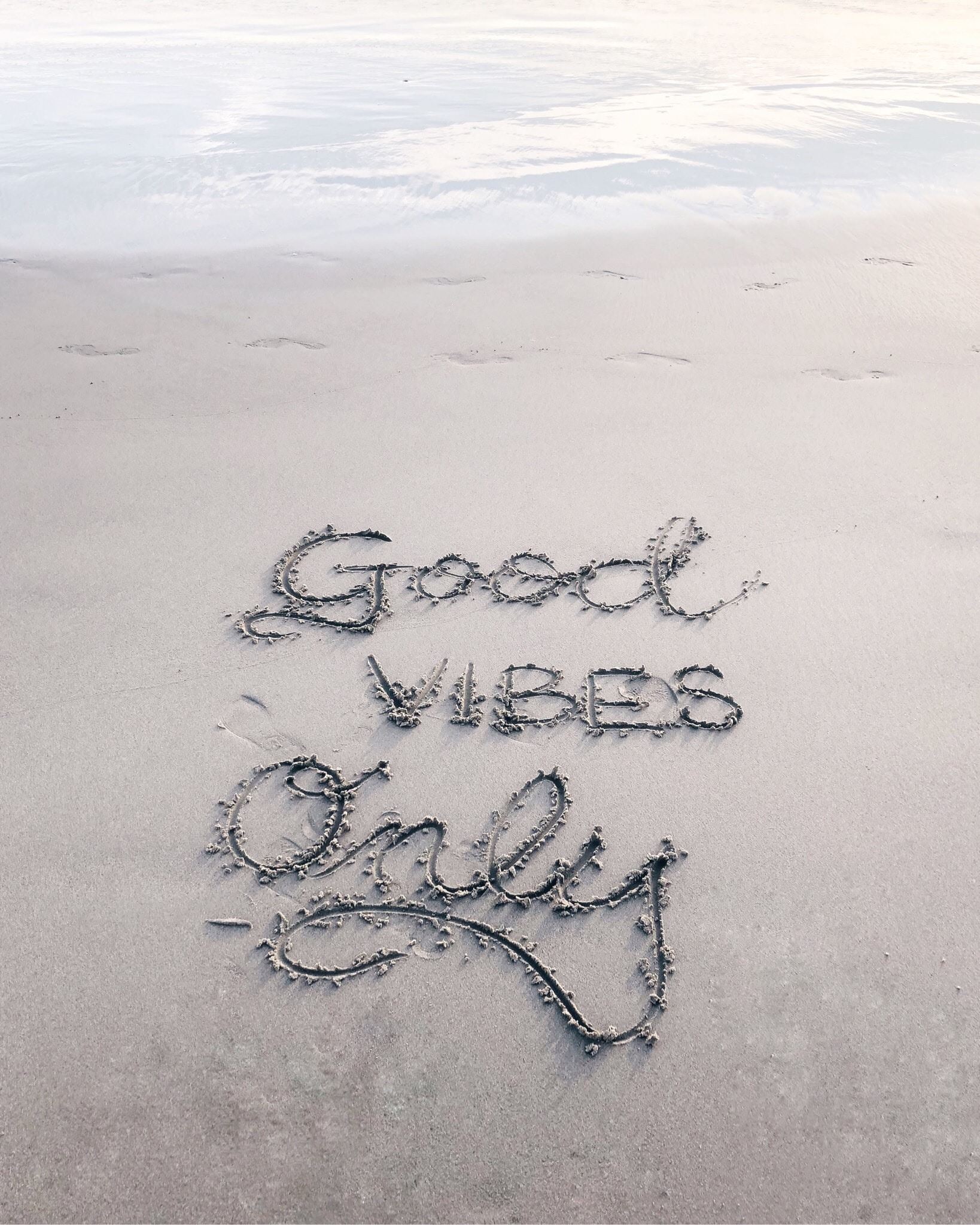 3rd Aug 2021
Bolton's BIG wellbeing conversation survey
The people of Bolton are being asked to take part in Bolton's Big Wellbeing Conversation and be in with a chance to win a £25 gift card!

The results of the survey will help ensure that the mental wellbeing support services provided for people in Bolton are targeted where they are most needed.

Mental wellbeing can fluctuate from time to time, and this is normal. But it is especially true in times of adversity. After all, almost everyone has been affected by the Covid pandemic either financially or socially, with impacts on both our physical and mental health.

However, if we have low mental wellbeing over a long period of time, we may need help.

The wellbeing survey is being run by the Independent Mental Health Network on behalf of Bolton Council. People do not need to give their personal details to complete the survey and all the responses will be anonymous.

Tom Renhard, CEO of the Independent Mental Health Network said:
"We want to hear from people and communities across Bolton about what's going on for their wellbeing. What matters, what needs to change and how things like a person's housing or employment situation are impacting things at the moment, especially given the current climate. The information we gather will then be analysed and developed into a set of recommendations for what is needed going forwards."

Bolton Council's Executive Cabinet Member for Wellbeing, Cllr Susan Baines, said:
"We want everyone in Bolton to get the best possible start, to live active and fulfilling lives and to age well.
"To achieve this, we know that mental wellbeing is every bit as important as physical health.
"In order to provide the right services, we need as many people to take part in the wellbeing survey as possible and I urge everyone to get involved."

Why are we asking about mental wellbeing?
We are undertaking this survey to help us to understand more about mental health in Bolton so that we can plan services both now and in the future.

How can I contribute?
Please fill in our short survey. Bolton's BIG wellbeing conversation survey
Request a paper survey to complete by emailing: engagement@imhn.org or calling 0117 405 5863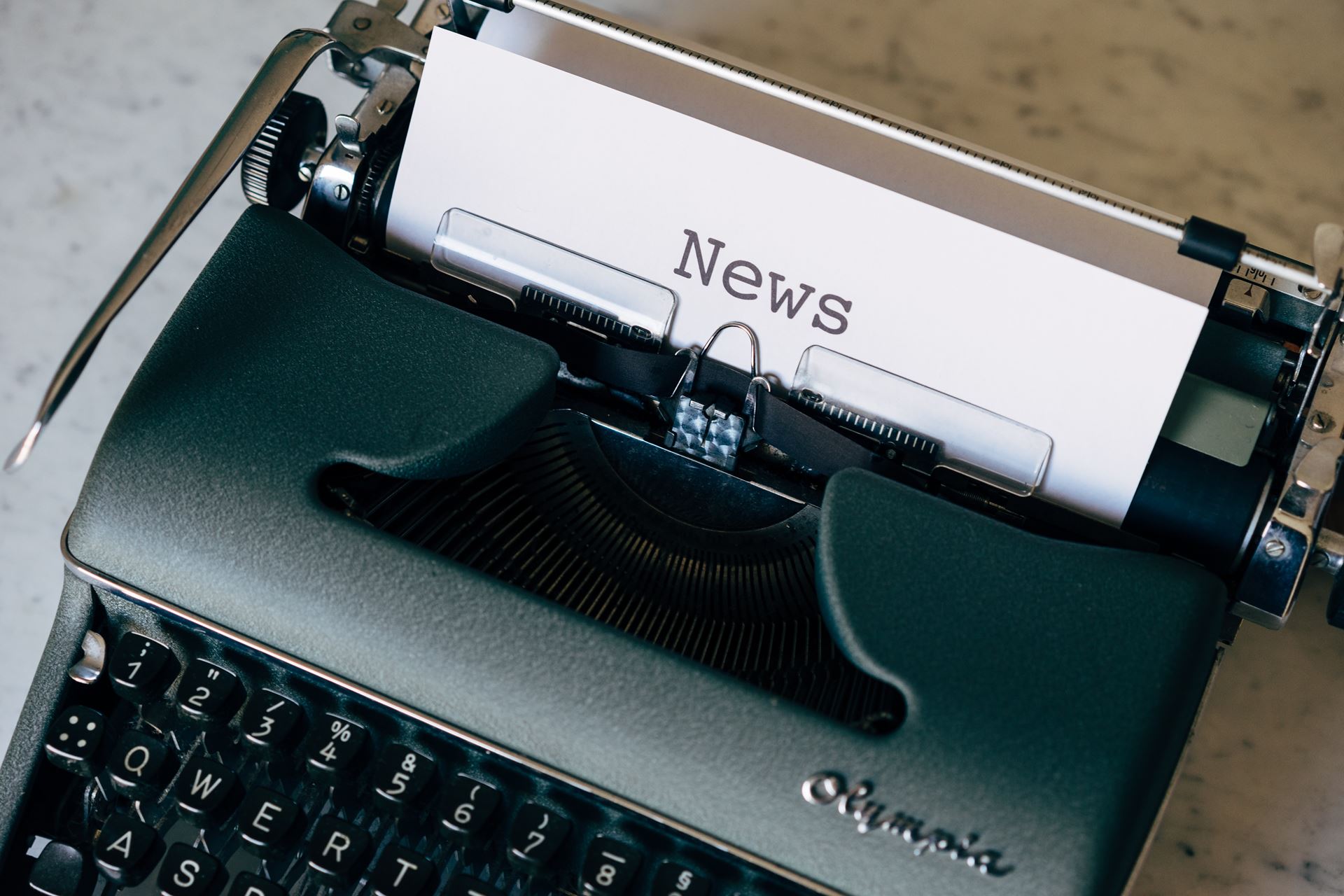 28th Jul 2021
PPG Newsletter #1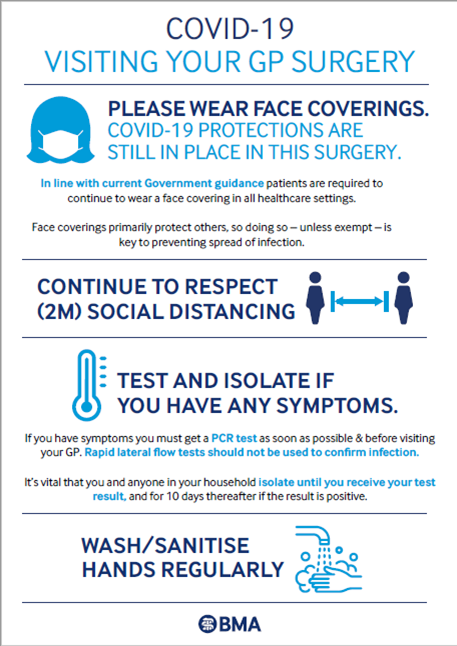 19th Jul 2021
Visiting your GP surgery after national COVID-19 restrictions have been lifted.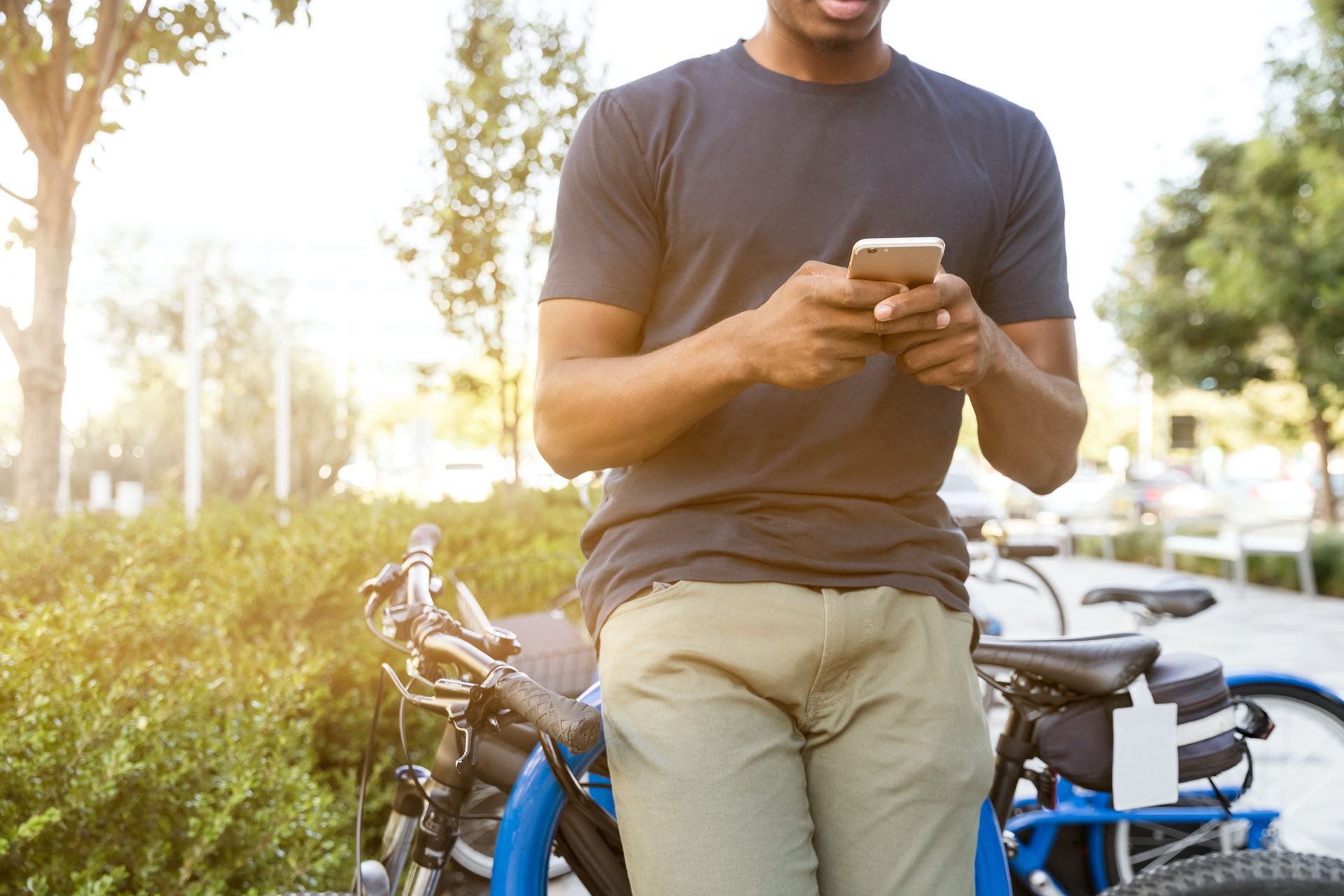 13th Jul 2021
text request for patient information
Dear Unsworth patients,
We are trialing a text request for certain clinical information such as BMI and smoking status etc. This information gathering is to further enhance care we deliver to patients. By requesting it via text it helps keeps our phone lines less busy. It does not replace any reviews you would ordinarily be called for. It does help us prioritise patients for advice/ education/ screening etc. The data is received in a very secure and confidential way and placed on an individual patient record.
Many thanks for your assistance and your support.
As ever we are happy to receive feedback on how we communicate with our patients